Описание игры, скриншоты, видео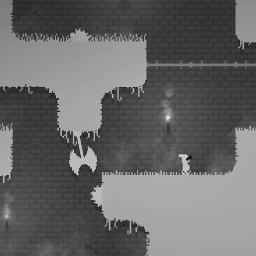 Just Get Through - это хардкорный платформер со случайно генерируемыми уровнями и возможностью разрушить любое препятствие, благо герой запасся взрывчаткой...
Также присутствует режим песочницы, система достижений, таблица рекордов, улучшения и многое другое.
Игра ОБНОВЛЕНА с v1.2.2 до v1.3.0. Список изменений внутри новости.
Язык: Английский.

v1.3.0:
• New Classic Mode Leaderboard System
• New gamemode: Explosion Run
• You can now skip levels in Classic Mode
• (Click here for a tutorial on how to skip levels)
• Added Steam Cloud support (Could lead to save problems, but this is steams fault, not mine)
• No more daily runs on weekends. Instead: Weekly Runs!*
• Snow! From now on it's snowing in December and January
• Added a Developer Console**
• Walls start to crumble a little bit later
• Quick Restart
• New Sign texts
• Changed several description texts
• Changes on some traps and objects
• Fragile walls won't create boulders when destroyed
• Decreased Boulder Creation chance
• You can now dig faster
• Less items in the first few levels
• Made Arrow Bot less accurate
• Made Rocket Bot more accurate
• Fixed some bugs, for example one where you sometimes couldn't do a walljump
v1.2.2:
• Changed some level generation rules
• Changed the Speed Run Mode
• You can now toggle off color palettes (Deactivated palettes won't get chosen when 'random palette per level/run' is enabled)
• Nice Level 50 and beyond stuff :D Reach level 50 to trigger it
• Hold Shift to do bigger steps when editing object properties in the sandbox
• Hold Alt to go a step back when editing object properties in the sandbox
• Changed default gamepad controls
• Less damaged color palettes
• Hearts and TNT in custom levels now get correctly saved
• Fixed Seed Problems (All Seeds have changed, sorry)
• Improved Backup System#- Reduced acceleration
• New Spike Art
• Retracting Spikes are now only deadly from above and have shorter cooldowns
• Tweaked some upgrades and other values
• Single spikes are more visible
• Fixed invisible obstacle bug
• Fire can now destroy grass
• Unlocking new game modes is now even easier
• Cursor Click Effect
• Changed some texts and descriptions
• Fixed various other bugs
• I also updated all steam store page images
v1.2.1:
• New vegetation system
• Walls have a new not-so-flat topside
• New gamemode: Set Run Mode
• New object: The slot machine (Coin Mode and sandbox)
• Added a gamesettings.ini file in %localappdata%/JustGetThrough where you can tweak some additional settings
• Added a new custom level exclusive upgrade: extra walljump
• New custom level setting: Unlimited walljumps
• You can now change the value of a coin in the sandbox
• Some gamemodes are now easier to unlock
• New wind sound
• Color palette chests spawn completely random now (same seed != same chest location)
• You can now destroy vendors and slot machines to get some coins
• Some Achievements are now easier to unlock (e.g. Challenge completed will now need level 10 in hardcore mode, Gramp only needs a level > 10, not >25)
• Increased chest spawn probability in daily runs
• Better Seeded Runs
• Improved Pick up messages
• Coin pick up messages
• Changed some texts
• Bloodstains in the main menu (You don't like bloodstains? Disable them in the new gamesettings.ini)
• More Items in Hardcore Mode
• Added some new color palettes
• Added and changed other minor things
• Fixed tons of smaller and also bigger bugs
• Improved and tweaked a huge amount of stuff
v1.2.0:
• Added Daily Runs, finally!
• What are daily runs? - You can start this run once every day. Everyone gets the same seed on this day. The seed changes daily. Because everyone has the same seed, everyone gets the same levels. Now you only have to get as fast as possible as far as you can. At the end a score is calculated and your score gets listed in the steam leaderboard.
• Every daily run has its own leaderboard. So every day you get a new chance to be the best.
• Added new gamemodes!
• Now the game doesn't have only one classic gamemode anymore.
• New submenu to choose a gamemode or to look at the leaderboards
• Unlock new gamemodes
• New system to calculate a score from your run
• The classic run highscore and score calculation remains almost untouched
• Gamemodes now have steam leaderboards
• Compare your best score with the scores of your friends or with all players, ingame and in the steam browser
• Some gamemodes have exclusive items, upgrades or features
• Added a Coin Mode! + Steam Leaderboard
• Added a Night Mode! + Steam Leaderboard
• Added a Daily Run Mode! + Steam Leaderboard
• Added a Speed Mode! + Steam Leaderboard
• Added a Survival Mode! + Steam Leaderboard
• Added Seeds + Seeded Run
• You can now dig! Hold S/Down to start digging. It's slow, but can help.
• Added a new item! The road flare. Useful when its dark
• Pickup flares, throw them, hold them, put them on your back
• Road flares spawn naturally only in the night mode
• Added 9 new achievements
• Added some new stats
• Added a Top Daily Runs Of All Time Steam Leaderboard
• New Sandbowcontent
• Set Darkness
• Springs can have a cooldown of one step
• Set Player Glow
• Toggle Falldamage
• New collectable object: Orbs
• Set min. Orbs to able to finish
• Toggle Drop Coins on Death
• Toggle torches on/off
• Create Road Flares
• Set object properties get temporary saved
• Fixed Bug where you could destroy walls with Ctrl+LMB
• Improved some minor Sandbox UI things
• Gamepad Control Overhaul
• Sprint automatically
• Changed default button assignment
• Improved TNT Aiming
• It's now possible to sprint, jump and throw tnt at the same time
• You can now also jump with Pad Up
• Favorite Custom Levels!
• Time from the last level doesn't count anymore!
• New Particle Effects!
• Added epic fireparticles to explosions
• Dust when grinding etc.
• Better Blood Particles
• Cool color palette unlock particles
• Several other small new particles or changes
• Improved Camera Intro Path
• Reduced minilags
• Added random bloodstains
• Explosions create a black spot
• New ingame upgrade object art
• Changed some upgrades
• Nerfed larger attraction range upgrade a little bit
• Torches now spawn more often
• Torches are sometimes not ignited
• Torches can get ignited by explosions, road flares or fire
• Torches burn longer in rain
• Items will now move outside of each other
• Added new screenshake events
• Classic Mode Online Highscore has no scroll limit anymore
• Items that are hidden behind walls won't glow anymore
• Added several new color palettes
• New special palette: Cave
• Changed some color palettes
• Replaced Classic B/W Palette
• Fixed color palette site indication bug
• Upgrades in pause and upgrade menu are now scrollable
• Changed properties of some objects e.g. glow-values or size
• Changed various texts and descriptions, e.g. stats, upgrades, buttondescriptions, credits, helptext etc.
• Added some new sign texts
• Removed offensive language from signs
• You can now read signs with your mouse
• Reduced Rocket Bot Spawnrate
• Changed some things in the Game Over Screen Layout
• Added a feedback button in the main menu that brings you to the steam store page
• Improved player grinding sprite
• New idle animation
• Changed wall remains color
• Turned down a default music volume even more
• Improved Save Backup System
• # in steam user name won't cause problems anymore
• Fixed dozens of other bugs
• Improved countless other things
v1.1.6:
• New Logo/Icon Art (Can take a while until it's visible everywhere)
• Added an Ingame Changelog
• Added Springs to the sandbox mode (A rotatable, wall-mounted spring and a normal spring, WIP)
• Added 7 new color palettes
• Adjusted some upgrades (e.g. Gripupgrade/Downgrade, Walldamage)
• Changed various texts
• Nerfed Rocket Explosions
• Improved Performance in big levels
• Fans won't blow you away anymore when you stand in them
• Fixed 'Jump on a climbing net'-bug
• Fixed 'Can't enable Highscore'-Bug
• And changed some other minor things
v1.1.5:
• Added new options for the boulder (e.g. respawns after getting destroyed)
• It's now possible to connect a pressure plate with a falling wall
• Changed the Online Highscore Layout a little bit
• Place pressureplates on boulders and falling walls
• Fixed fans not starting to rotate
• Fixed wrong format of helpmessage
• Fixed some other small bugs
• Fixed a HUD bug in custom levels
• Added a Just Get Through demoversion
v1.1.4:
• Global Custom Levels will load way faster
• The online highscore doesn't lag anymore
• Added 3 new colorpalettes
• Changed some particles
• Changed the way the time is displayed in the leaderboards
• Changed some trap spawn probabilities
• Changed/Fixed the jump when freezed after respawning
• Changed the walljump a little bit (maybe you won't even notice it)
• Fixed the player isn't freezed after respawning
• Added the option to use the arrow keys to control the game
• Added a Gamepad Vibration Slider
• Added an option to disable/enable the gamepad
• After playing a custom level you will directly get back to the custom level menu
• Added a just for fun cinematic mode (type 'cinema')
• Fixed some button/key names
• Fixed the + symbol for custom levels (1.1.4+)
• Improved the performance a little bit
• Fixed torch lights
• Switched to a newer game engine version (this could lead to some new bugs, but I think everything works great)
v1.1.3:
• Level Generation changed in that new traps now won't spawn immedietly in a large number but instead when you for example reach level 25 the chance that you find landmines is not immediatly high but instead starts to grow. All in all this makes the game easier in later levels.
• Turn on/off the compass
• Enable/Disable sprinting
• Change the Scorecalculation type*
• Change the Levelcompletion type*
• Changed the Custom Level Menu Layout a little bit
• Reduces the damage on walls that is dealt by trap explosions
• Added "negative" upgrades for the sandbox like for example "less grip" or "slowdown" (WIP)
• All upgrades are now also available on the upgrade object in the sandbox
• Added 2 colorpalettes, and replaced one (Pale)
• Added a setting to settings: Random colorpalette! Select "Run" to select a new palette with every run you start or "Level" for a new style with every level (It chooses one palette from all your unlocked colorp.)
• More Checkpoints (now stackable)
• Improved compass (now stackable and more effective)
• Fixed some language mistakes
• You can now also use the D(irectional) pad to control the player
• Changed the way the portal looks
• Changed some probabiltys
• You can now jump immediatly after respawning
• Fixed arrows not getting stuck
• Fixed ingame pop-ups problems when the screen shakes
• Fixed colors and style of some pop-ups
• Fixed and changed several other minor things, or at least I tried
v1.1.2:
• New: Rolling boulders. Big rocks that can crush you easily
• Boulders sometimes emerge when a wall gets destroyed (Level 30+)
• New in Sandboxmode: Pressure Plates that can get connected to a boulder to activate it.
• This is the first step towards a more complex trigger mechanism
• New: Highlevel Arrow Bot (Much health, watchout)
• New setting for custom levels to disable spawnprotection
• Change the use/activate key
• less beartraps
• HP and TNT-Items spawn after lvl 50 again, but less special items like triple TNT
• No upgrades anymore after level 50
• Single spikes
• More single spikes but less saws on the floor
• Rainbow glow
• Changed the structure of the setting menu
• +2 upgrades are now +3 upgrades
• Increased visibility of the "what to press"-instructions in the bottom left corner of the screen
• Less spikes, more moving spikes
• 3 new color palletes
• Changed the way rain effects sliding slowdown
• A few new sounds
• More indestructible walls in later levels
• Countdown for custom levels
• Adjusted Coin HUD
• fixed globetrotter crash + save reset
• fixed door spawning
• fixed no damage by jumping against walls
• fixed maaany other stuff
• And of course added Steam Trading Cards
• 4 new colorpalettes
• Doors spawn even less often
• Doors now have their own Stat
• At the end of a custom level you get to see how many coins you had left
• Changed the Sprinting Trail a little bit (it's still not completely bugfree)
• Multiple Upgrades now get shown in the pause menu
• Fixed Weird arrow behavior
• New in Sandbox: A Vending machine for buying upgrades with coins
• New in general: Doors, that work like portals. Go from Door 1 to the other Door 1.
• Sliders to control music volume, sound volume, screenshake, camer intro speed
• Turn off Gamepad rumbling
• New for Custom Levels: A rating system! Rate levels after you played them
• Sort levels by rating
• Increased global custom level loading time by 30%
• Change ventilator period time
• Added savefile encryption
• new gamepad aiming system
• Changed default gamepad controls (change them in the settings menu)
• One new achievement
• New sounds
• Reworked Audio Engine
• New Screenshake System
• When Screenshake is set relatively high the screen also shakes when grind on walls etc.
• Improved scrolling with Gamepad Stick
• Changed Sawspawning a bit
• Slightly smaller Sawcollisionbox
• Custom Level titles can't have every character anymore
• Fixed Checkpoint stats reset
• Fixed Checkpoint disappearing
• Fixed Playerorientation Bug when sliding and pressing A+D
• Fixed lag on gamestart
• You can now easily switch between mousecontrols and gamepadcontrols
• Fixed some issues with the player sprinting trail
• Changed how you switch between sandbox and noclip with C/Ctrl+C
• Fixed placing multiple climbing nets on each other
• Fixed Objects appearing too late?
• No Colorpalette-Unlock Notifications anymore
• Your collected Coins now get shown
• Fixed various other small bugs
• Improved several other minor things
• Increased performance in the pause and game-over screen
• New Setting for the speed of the camera when starting a new level, higher value = faster camera)
• Fixed that you have to climb with the jumping-Key instead of W
• Fixed rotating saws saw duplication bug
• Fixed several other small issues
v1.1.0:
• Increased performance in the pause and game-over screen
• New Setting for the speed of the camera when starting a new level, higher value = faster camera)
• Fixed that you have to climb with the jumping-Key instead of W
• Fixed rotating saws saw duplication bug
• Fixed several other small issues
Just Get Through is a randomly generated platformer featuring upgrades, explosions, traps, walljumping and more. You play as a dude trapped somewhere in a jungle-like environment. You try to escape but there is no exit - only those portals. And everytime you jump through one of them, you just land in another jungle-like dungeon with even more traps. Maybe, maybe someday you will get teleported home, away from all those deadly traps and this bad weather. Hopefully...
Features:
• Consistent Style
• Beautiful particles and effects
• Achievements
• Sandbox Mode
• Save and Play Custom Levels !
• Unlockable Colorpalettes
• Throwable TNT to destroy walls or traps
• Online Highscore
• Gamepad Support
• Endless fun in different randomly generated levels
• Upgrades
• Destructible Environment
• Permadeath
• and much more
Если вы являетесь
правообладателем
данного материала и вы против размещения информации о данном материале, либо ссылок на него - ознакомьтесь с нашей
информацией для правообладателей
и присылайте нам письмо. Если Вы против размещения данного материала - администрация с радостью пойдет Вам на встречу!
Ссылки для скачивания игры
Скачать Just Get Through v1.3.0 (11.37 Мб.):
Если ты нашёл "мёртвую" ссылку - дави значок [X] рядом с ней и ссылка в ближайшее время будет перезалита.
Дополнительные файлы для игры
Если ты нашел новую версию игры Just Get Through v1.3.0, либо русификатор к ней, патч, левелпак или мод - сообщи об этом редактору новости, он добавит сюда доп. файл.
Отправка личных сообщений доступна только после регистрации.
Комментарии игроков (10 шт.)