Описание игры, торрент, скриншоты, видео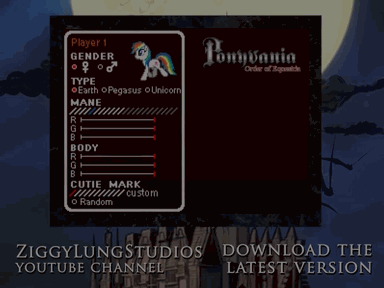 • SGi навигация / Navigation:
Ponyvania: Order of Equestria [Demo v16]
• Разработчик / Developer:
Инди-игра
(14535)
от Ziggylung
(1)
• Жанр / Genre:
Платформеры (вид сбоку)
(3399)
; Сетевые / ХотСит
(2076)
• Тип игры / Game Type:
Демо версия
• Размер / Size:
160.75 Мб.

• Оценка игроков / Game Score:

6.7

из

10

(всего голосов:

13

)
Платформер от независимого разработчика, основанный на MLP:FiM и Castlevania. Присутствует кооперативный режим игры (потребуется геймпад).
Версия игры ОБНОВЛЕНА с Demo v15 до Demo v16. Список изменений не обнаружен.
Язык интерфейса: Английский
Управление:
Left Arrow-Move Left
Right Arrow-Move Right
Up Arrow-Aim Upward
Down Arrow-Crouch/Aim Downward
Z-Attack
X-Jump
C-Skill 1
V-Skill 2
S-Cycle Skill Set Left
D-Cycle Skill Set Right
Space-Special
Enter-Start
F1-Display FPS
F4-Cycles Between 1x Windowed, 2x Windowed, and Fullscreen
F9-Take Screenshot
ESC-End Game
version 0.11
-Fixed a bug with drawing surfaces
-Fixed a few typos and grammar mistakes
-Fixed getting stuck in ceilings with teleport
-Fixed a teleport bug were the player would not reappear
-Fixed the snow effect not going away when it should
-Fixed poison not going away upon death
-Fixed weapon attack animation when quickly turning then attacking
-Fixed a bug that would permanently prevent you from attacking after you switched weapons
-Fixed a bug that occurred when switching back to a whip weapon
-Fixed spears sometimes not damaging enemies when used in quick succession
-Fixed player 2 not reviving after restarting a stage
-Fixed a rare bug that occurred when enemies dropped items
-Fixed a bug that would happen if you died while using a thunder based skill
-Fixed some enemies not behaving properly after a player was killed
-Fixed destroying candles and torches that were not within view
-Fixed Peekaboo accessory not working for player 2
-Fixed particle effects not clearing when accessing the pause menu
-Fixed attack animation when no weapon is equipped
-Fixed the skill Rock Wrecker not allowing you to use other skills after its use
-Fixed a bug that would cause skills to damage enemies multiple times
-Fixed shurikens getting stuck in the floor if fired while crouching
-Fixed some enemies going outside the room
-Adjusted enemy placement
-Adjusted enemy damage
-Adjusted range that Une enemies appear
-Adjusted healing items
-Adjusted Sapiens Fio
-Adjusted weapon hitboxs
-Adjusted enemy hitboxs
-Adjusted character knockback
-Adjusted item rate for chests, its now less likely to get an item you already have
-Adjusted player ground movement
-Adjusted damage and cost to some skills
-Adjusted boss AI when there are 2 players
-Added a new passive skill that is available for all races (Get it from Luna)
-Added ability to cancel your character's turn animation by crouching
-Added checkpoint after mini-boss
-Added confirmation message when exit is selected from the pause menu
-Added 2x windowed resolution, F4 now cycles through 1x, 2x, and fullscreen
-Removed restriction from double tapping, you no longer have to be facing the same direction
-Removed ability to cancel a dash attack by crouching
-Optimized the snow effect
-Optimized the Windigo's effect
-If your machine still runs slow due to surfaces or particle effects, the game will automatically stop rendering them
version 0.2
-Adjusted view when facing bosses with 2 players
-Adjusted skills, skills can now level up with use
-Adjusted amount of bits (money) found in levels
-Adjusted item rate for chests, again
-Adjusted some enemy's resistances
-Added configuration menu
-Removed automatic low graphics, graphics level can now be set from configuration menu
-Added new death animation
-Added adjustable game difficulty
-Added adjustable level cap
-Added shop and save point
-Added 'load game' option to main menu
-Added several new weapons and armor
-Added 5 new duel crushes, the one used depends on the pony type combination
-Added a glowing MP bar to indicate when a duel crush is available
-Added stage 2, Froggy Bottom Bogg
-Added unique critical arts to some weapons
-Changed some item names
-Changed weapons to have their correct damage type
-Changed various images of humans into ponies
-Fixed whip hitbox
-Fixed weapons sometimes not being in the correct position during attacks
-Fixed a bug with passive "Fio" skills that occurred when a player leveled up
-Fixed a bug when going to a new room with 2 players
-Fixed player graphics when entering a new stage
version 0.21
-Removed debug buttons that were left in the game
-Fixed game sometimes not resetting properly
-Fixed game crashing when surfaces can not be found
-Fixed a few typos
version 0.3
-Added custom cutie mark creator
-Added several new weapons and armor
-Added new skills
-Added stage 3, Cloudsdale
-Added ability to drop through platforms by pressing down + jump
-Added a delay before Timberwolf enemies jump out
-Added more things that will be toned down when the game is played on low graphics
-Adjusted the damage bonus of critical strikes
-Adjusted the acceleration speed of Windigo enemies
-Adjusted weapon hotboxes, swords/staffs/hammers no longer hit directly below
-Added correct completion rate to pause menu
-Added a confirmation when exiting the game with the esc key
-Increased game resolution
-Changed HUD
-Changed Fire Blast skill (it is now chargeable)
-Changed Shield skill (it is less durable now)
-Changed boss door graphics
-Fixed various typos
-Fixed save statue animation
-Fixed a bug where elements would appear after you spawned, if you died after defeating a boss
-Fixed pegasus ponies sometimes not being invincible during a dash attack
-Fixed a rare bug where your character would get stuck in a hurt animation
-Fixed a bug where some skills wouldn't activate when equipping 2 of the same skill
-Fixed a bug with the rebound stone skill
-Fixed getting stuck in ceiling with the uppercut ability
-Fixed pause menu sometimes being disabled after boss battles
-Fixed status ailments not going away when revived with water of life
-Fixed a bug where characters would stay invincible during boss fights
version 0.31
-Changed selected item color for character creation menus
-Changed HP and MP bars for HUD, made them thicker
-Fixed a bug where elements would appear after you spawned, if you died after defeating a boss (for real this time)
-Fixed a bug that would occur when esc was pressed during the pause menu or the shop menu
-Fixed numbers not displaying correctly in the shop menu
-Fixed Ursa Minor not displaying at all on low graphics settings
-Fixed a few typos
-Fixed custom cutie mark images not saving correctly (they are now saved as a png)
-Fixed some weapons not dealing damage during a dash attack
-Fixed enemy information not displaying correctly in the pause sub menu
-Fixed some enemy item drop issues
-Fixed invincibility sometimes not going when back-dashing into another room
-Fixed sometimes being reviving inside walls in 2 player mode
version 0.4
-Added several new weapons and armor
-Added new skills
-Added new critical arts to some weapons
-Added an intro movie to the game (only adds 5.56 MB)
-Added world map; players can now select the next location to visit
-Added bubbles that show where characters are when they go off-screen
-Added smoother camera movement in co-op mode when a player dies or is revived
-Added temporary invincibility to a player who is revived
-Added jump canceling to pegasus's back dash
-Added interactive story elements to stages 3 and 4; your actions will determine the outcome
-Added a maximum number of Mudmen that can spawn at a time, also Mudmen no longer spawn under the player
-Added a delay for Spear Guard's spinning spear attack
-Added mouse support to all in-game menus
-Added intro stage and an equipment tutorial before the first stage
-Added a limit to the amount of 'jumps' a pegasus can perform with their flying ability
-Added a fixed percent of damage that stonewall will protect you from
-Added special bit bonuses at the end of levels
-Added options and credits to the start menu
-Added new sounds to some enemies
-Added death jingle
-Added game's credits to the main menu
-Added level end bonuses
-Added the options to the main menu (options are now saved in settings.txt file)
-Added the arena challenge to the main menu (needs to be unlocked)
-Removed ability to attack during stonewall
-Fixed spirit medal accessory not working
-Fixed some dialogue and item descriptions not showing correctly
-Fixed shops not selling correct items in co-op mode
-Fixed water of life not removing negative conditions
-Fixed sometimes being reviving under floors in 2 player mode
-Fixed errors that occurred when some skills were out while the player that created them was dead
-Fixed some skills not leveling up properly
-Fixed Ankh of Life not being an accessory
-Fixed poison shade enemies sometimes turning white
-Fixed sometimes not turning invincible during abilities when you should
-Fixed being able to hide behind Ursa Minor without taking damage
-Fixed being able to "hide" off-screen behind doors
-Fixed "moon walking" into new rooms
-Fixed enemies not targeting the other player when one dies in co-op mode
-Fixed custom cutie marks sometimes appearing as large black squares on players
-Fixed crashes caused by using a blank cutie mark
-Fixed difficulties caused when changing the start key, as well as controller buttons
-Fixed treasure boxes having high chance of giving items that the player already had
-Fixed some enemy projectiles destroying player's skills when they shouldn't
-Fixed Flame Pillar, Vol Grando, and Star Dust skills not working properly on platforms
-Fixed player damage not displaying correct values on easy and hard modes
-Fixed particle effects sometimes not rendering after loading a saved game
-Fixed problems with selecting items and skills in the pause menu
-Put arrows on the start menu to show that there are more options
-Added options and credits to start menu
-Adjusted all pony's base move speed and jump height
-Adjusted all pony types stat growth
-Adjusted weapon and armor stats
-Adjusted various skill's damage and cost
-Adjusted the time that hearts and coins stay out before disappearing
-Adjusted dash attack cost and cool down
-Adjusted teleport and illusion ability's cost
-Adjusted door placement in The Order
-Adjusted reviving in co-op mode, entering a new room now restores dead players to 10% HP
-Adjusted contrast on spikes, they should be more visible now
-Animated message box
-Rebalanced armor, weapon, and accessory stats
-Rebalanced enemy attack and health
-Music converted to OGG format
-Music will no longer pause the game when looping
-The exit option from the pause menu will now take you to the start menu instead of exiting the game.
-Music will play correctly while in the pause menu during the start of a boss fight
-And a few other things that might not have been mentioned
version 0.5
-Fixed some typos and message errors
-Fixed cockatrice stare stunning the player when a spirit medal is equipped
-Fixed an error that occurred when opening a chest and already having most of its contents
-Fixed player duplicating when ESC is pressed during death
-Fixed bugs that occurred with Ursa Minor when the player was dead
-Fixed tile placement errors in some places
-Fixed errors related to pressing ESC, pressing ESC now skips the intro story text
-Fixed some enemies occasionally not attacking after a player died in co-op mode
-Fixed some items not dropping for the right classes
-Fixed Merponies completely healing when they fell in water
-Fixed error that occurred when pressing the start button during the credits
-Fixed some enemies causing an error when a player died
-Fixed the pause menu sometimes being inaccessible
-Fixed dark rift sometimes causing errors when it hit enemy debris
-Fixed not being able to turn music off
-Fixed boss music not playing correctly in pause menu (for real)
-Fixed key configuration not saving properly
-Fixed music sometimes not playing when reentering the order
-Fixed shops not updating correctly for player 2 in co-op mode
-Fixed stages in co-op mode not ending properly if player 1 is dead
-Fixed player 2's equipment stats being transferred to player 1 in co-op mode
-Fixed players getting stuck in walls when revived in co-op mode
-Fixed still being stuck in trap holes after being revived
-Fixed both player's sprites displaying the same player in co-op mode
-Fixed rock wrecker causing errors when hitting some enemies
-Fixed dark eruption and flame pillar skills hitting more times than they should
-Fixed players getting stuck off screen when the pause menu is opened after a player exits the room in co-op mode
-Fixed player 2 skills that can be held down not working properly in co-op mode
-Fixed some skills not correctly hitting enemies with multiple segments
-Fixed mouse controls sometimes not working in menus
-Reduced the damage from spikes
-Reduced the amount of attacks that the Wolf Pony can string together, was 3 now is 2
-Reduced rate of fire for the Hydra, and the amount of time that it's spit remains on the floor
-Added new sounds to some enemies
-Added more mane types to character creation
-Added eye types and eye color to character creation
-Added boss door for mid-boss in Ghastly Gorge
-Added various new item drops to enemies
-Added missing breakable walls to stage 4
-Added new weapon type available to all races: throwing weapons
-Added protection from explosion if hiding behind a shield
-Added flashing to items that can be picked up
-Added warp points to checkpoints when you die after defeating the mini-boss, you can exit the stage but will have to fight the mini-boss again
-Removed green chests from levels once the level has been cleared
-Adjusted colors that characters flash when they are poisoned to make the effect more noticeable
-Adjusted enemy placement
-Adjusted some enemy's health
-Increased player's invincibility time after being hit
-Renamed difficulties to more appropriate names
-Updated a few item's effect graphics
version 0.51
-Fixed some skills causing errors when colliding with enemies that have multiple segments
-Fixed errors that occurred when enemies that have multiple segments were defeated
-Fixed Fidelis Mediocris not being a passive skill
-Fixed ending grade not showing correct difficulty if playing on easy
-Fixed some boss doors not correctly going behind walls
-Fixed items not always giving the correct stats
-Fixed some hair styles not turning completely gray when the player is petrified
-Fixed drop image for Chakram
-Fixed shield rod critical hit sometimes getting the player stuck on slopes
-Added missing warp point to checkpoint on stage 5
-Added green chest to stage 5
-Added missing critical art effect to cudgel
-Adjusted boss HP
-Adjusted collision code for Rock Riot skill
version 0.52
-Fixed breezies blotting out the sun
version 0.75
-Changed Timberwolves, they will now hide after taking a certain amount of damage, not necessarily from a single attack
-Changed input detection for uppercut, should be easier to perform
-Fixed some more errors with weapon collision on segmented enemies
-Fixed Cloudsdale backgrounds displaying incorrectly on low graphics mode
-Fixed powered-up javelin getting stuck in the ground if used while ducking
-Fixed some bosses not attacking after a player is killed in co-op mode
-Fixed being able to move during some dialogue
-Fixed some skills not leveling up
-Fixed Bomber Knight's bombs not being destroyed when they should be
-Fixed various typos
-Fixed errors with Explosion skill and added a visual indicator for it's range
-Fixed more moonwalking issues
-Fixed player's position during some cutscenes
-Fixed Cloudsdale not allowing players to pass the mid-point when returning to it after beating the stage's boss
-Fixed a few graphical issues with the background in stage 4
-Added red orb drop to mini bosses
-Added a small delay when opening the shop menu to prevent players from accidentally purchasing items
-Adjusted various skills
-Adjusted weapon attack
-Adjusted boss damage
-Adjusted difficulty of training halls
-Adjusted the probability of obtaining items from chests, now more affected by luck stat
-Adjusted HP growth for races, Earth and Pegasus gain less max health per level
-Probably a lot of other changes and fixes no listed here, there were to many to keep track of!
version 0.76
-Added a cap to the time an enemy can be petrified
-Added a 1 more level bonus
-Fixed draw error that occurred when players died in a nightmare
-Fixed error that occasionally occurred when a spear guard was hit with the red eye skill
-Fixed rare error with segmented enemies
-Fixed persephone enemy drops
-Fixed ice needle, cocytus, javelin, and bone skills not hitting enemies
-Fixed prism shot skill crashing on hit
-Fixed prism shot and red eye skills not leveling up
-Fixed players getting stuck in the ground by polkir
-Fixed reviving players during battle with shadowfright causing players to be placed in the wrong position
version 0.77
-Made black viper skill stay out longer
-Adjusted spawn location for rooms in Manehattan
-Added MP numbers to prism shot skill
-Fixed phoenix's fireball not hitting enemies
-Fixed some items in blue chests having incorrect names
-Fixed certain item drops for non-earth ponies
-Fixed Zecora's quests and map icon not working properly
-Fixed bone, spirit of light and cocytus skills causing errors
-Fixed optical shot not working correctly when used as skill 2, also made it more spamable
-Fixed piercing beam colliding with enemy swords and preventing it from hitting them
-Fixed ice fang skill not leveling up
-Fixed fire blast skill not hitting segmented enemies
-Fixed random bug that caused players to get stuck in castle's secret walls (hopefully)
-Fixed spawning player on spikes in nightmare
-Fixed input detection for 'up' and 'down' buttons when going into a new room
-Fixed the calculations for power skill, art sanguinis, and felix Ictus skills
-Fixed javelin skill getting stuck in walls
-Fixed blue chest spawns in castle
-Fixed an error that occurred when hitting segmented enemies with a weapon
Known Issues
If music is turned off then on again, songs will sometimes not play correctly
Rock Riot is reported to randomly crash the game without errors
Cutie mark will sometimes be flipped incorrectly
Globus sometimes dosn't behave correctly
A WIP fan-game based on MLP:FiM and Castlevania.
If you die during the game, keep at it! You will start at the last checkpoint but keep all the experience, gold, and items you've collected. Each death should make the game easier and easier. Also, be sure to save in the room under Celestia's chambers. You can load a saved game from the title screen.
Ponyvania: Order of Equestria is a 2D action-platformer fangame based on Castlevania and My Little Pony. It is a parody of Castlevania: Order of Ecclesia. We had originally planned for it to be a much smaller project but because of the positive response, we've decided to expand it. The game plays very similar to older Castlevania games but with some features of the newer games, such as equipment and leveling-up. Currently, 75% of the game has been completed.
Если вы являетесь
правообладателем
данного материала и вы против размещения информации о данном материале, либо ссылок на него - ознакомьтесь с нашей
информацией для правообладателей
и присылайте нам письмо. Если Вы против размещения данного материала - администрация с радостью пойдет Вам на встречу!
Ссылки для скачивания игры
Скачать Ponyvania: Order of Equestria [Demo v16] (160.75 Мб.):


Скачать .torrent файл (прямая ссылка): ponyvania_order_of_equestria_4.torrent
Если ты нашёл "мёртвую" ссылку - дави значок [X] рядом с ней и ссылка в ближайшее время будет перезалита.
Дополнительные файлы для игры
Если ты нашел новую версию игры Ponyvania: Order of Equestria [Demo v16], либо русификатор к ней, патч, левелпак или мод - сообщи об этом редактору новости, он добавит сюда доп. файл.
Отправка личных сообщений доступна только после регистрации.
Комментарии игроков (146 шт.)