Описание игры, скриншоты, видео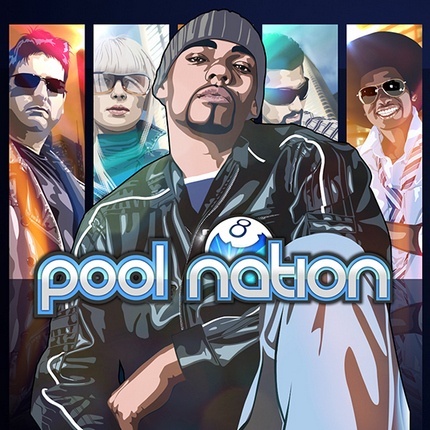 • SGi навигация / Navigation:
Pool Nation v1.74
• Разработчик / Developer:
Инди-игра
(14535)
от Cherry Pop Games
(1)
• Жанр / Genre:
Пинболы, бильярды
(65)
• Тип игры / Game Type:
Полная версия (установи и играй)
• Размер / Size:
450.26 Мб.
Красивый симулятор бильярда, в котором Вы можете выполнять обалденные трюки на разных столах в нескольких режимах игры.
Версия игры ОБНОВЛЕНА с 1.72 до 1.74. Список изменений внутри.
Язык интерфейса: Английский | Немецкий | Итальянский | Французcкий | Испанский
Язык озвучки: Английский
Системные требования:
- Операционная система: Windows Vista / Windows 7 / Windows 8
- Процессор: Pentium IV с частотой 2,9 ГГц или любой двухъядерный
- Оперативная память: 2 Гб
- Видеокарта: с 512 Мб видеопамяти
- Звуковая карта: Совместимая с DirectX 9.0c
- Свободное место на жёстком диске: 5 ГБ
Реалистичный и красочный симулятор бильярда с множеством разнообразных режимов игры.
Mar 06, v1.74
Fix for cursor being always shown in game
Oct 30, v1.73
Further fix for achievements not working in release builds
Oct 30, v1.72
Fixed Achivements issues
Tidied up and improved the Free Cam mode to update control hints and show mode icons longer
Oct 30, v1.71
Fixed Replay sound effects not playing when switching between shots in replays
Fixed player not receiving two shots in UK 8Ball when they are on black.
Oct 30, v1.70
Fixed new and old issues with 'force forfeit' message being shown at incorrect time
Fixed two shots being carried over to subsequent frames in UK 8Ball
Oct 27, v1.69
Foul messages for UK 8Ball specific fouls
Nominating with Kb/M now works correctly
New 'Saving' message when saving a workshop file
Floating balls over pockets in endurance are now frame rate independent
potential fix for online bug where both players would end up waiting for opponent
Oct 22, v1.68
Alt-Tab crash fixed
Favourite button hint fixed
Oct 21, v1.67
Missing translations added. (some are subject to change)
Oct 20, v1.66
Clicking a missing DLC icon will now take you to the steam store
New DLC pack icons
Exclusive pre-purchase colour pack available.
Oct 15, v1.65
Workshop screen will now retry getting list of files if it fails.
Fixed bug where you get stuck taking screenshot if screenshot upload fails
Oct 15, v1.64
Fixed bug with workshop screen not displaying creator names correctly
Fixed bug with workshop screen not displaying votes correctly
You can now open editor object menu when you have reached the max object to allow you to still add more balls
Oct 15, v1.63
FIrst pass of trickshot DLC implementation
Splash screens implementation updated to change automatically
Sep 30, v1.62
UK 8Ball rules/leaderboards implemented
Sep 18, V1.61
Trickshot editor fixes and implementations.
Feb 28, V1.52
New mode icons to show which camera mode you are in to help with new free cam
You can now exit replays using ESC or R.
You can now enter overhead when in free cam
Feb 27, V1.51
Lots of changes to get game ready for the Box of Tricks
New free camera to allow you to inspect the table
New replay display that shows you your playback speed in a nicer way.
You can now hide the replay panel in replay mode.
Fix for incorrect reflection maps being used on cues/tables in certain locations.
Saved archive matches now omit the prepended 'archive_' from the file name when displayed.

Jan 27, V1.43
Further fix to prevent non-gaming devices interfering with controls.
BOT enabled build with workshop integration
Jan 22, V1.42
Fix for lobby AA settings that doesn't break other things like V1.4 did
Jan 22, V1.41
Reverted the Aiming aid fix from the last build as it broke other things.
Jan 22, V1.4
Further fix for Lobby aiming aid settings not working
Jan 21, V1.39
Fixed issue with new 'Show Launcher' option setting all settings to default (the first time new launcher is used)
Jan 21, V1.38
Added option to disable the launcher (on the launcher and in Options->Settings menu)
Fix for Aiming aid settings not working correctly online
Quick match lobbies can now have their properties changed.
Jan 20, V1.37
Fix to the 'RETRY' button on winner screen crashing the game.
Added 'quick match' online button.
Fixed some AA lobby issues.
Jan 17, V1.36
Fix to the 'RETRY' button crashing the game.
Jan 17, V1.35
Fix for bug where flashing back the first shot of a match would allow you to go into replay again
even though there are no shots, which would mess things up.
Jan 16, V1.34
Added instruction on how to play human v human to player select screen
Added speculative fix for steering wheels interfering with menu controls
Jan 15, V1.33
Controller triggers now control replay speed correctly
Updated controls and hints for using flashbacks
Fix for controls hint sliders disapperaing when used in replays
Fixed freeze when game showed a slow-mo if running with high FPS
Retry option in the tour now shows a warning that progress will be lost
Jan 14, V1.32
Further changes to prevent getting stuck on enumerating dlc screen
Quick change to cue unlocks not being reported correctly.
Jan 13, V1.3
Minor changes in attempt to make game start more reliably for people having issues with the 'enumerating dlc' screen
Jan 09, V1.29
Fix for game not loading for new users
Jan 06, V1.28
Fix for Tutorials and Archives info not being shown correctly on single player menu
Jan 06, V1.27
Replays now start playing automatically.
Replay controls are no longer 'sticky'
Dec 31, V1.26
New game save made to be backward compatible with old version.
Dec 23, V1.25
Fix to archive saving/loading
Dec 20, V1.24
Arrows added to controls screen
Fix to archive deletion
Dec 19, V1.23
Deletion of archive matches now possible
Dec 19, V1.21
Controls remapping screen updated.
Dec 17, V1.2
Remapped controls are now saved and loaded correctly.
Dec 11, V1.19
Online matches now respect your cue and aiming aid choices correctly.
New Golden Cue as reward for winning the NoAimz community tournament.
Cue ball position is now slightly randomised on break to prevent same break occuring
Dec 02, V1.14
Menu sounds now work with mouse
Slightly streamlined 'no results found' when searching
New patch system. Should make updates a lot faster.
Back button added to search results screen.
Beta tester names added to credits.
Nov 27, V1.12 - (Pulled build)
Key repeats are now detected when chatting.
'Spectator' camera now has much less restriction on movement limits.
Network data being sent has been drastically reduced.
'XXX is typing' message now displayed when opponent is typing a message.
Power bar now fades to 25% opacity when power is locked so you can still see what's behind it.
You can no longer change the power with the mouse when you are moving the cue ball.


Nov 22, V1.11
Added 'Press enter to close' message to text chat
Bug fixes for people using controller when chatting.
Slow-mo is now disabled when playing Speed.
We now display a simple loading screen when entering free play games.
Tweaks to online menus to let you know your progression in online tournaments.
Added 'Playername is typing' to text chat when opponent has chat open.
Fixes for missing avatars.
Made the text chat box a bit bigger.
Added a 'create match' button to the search results screen.
Nov 20, V1.093
Added ability to text chat with online opponent.
Added ability to enter free play while waiting in the lobby
Overhead camera fixes.
Leaderboard fixes.
New universal search shows you all available online matches regardless of match type
Redesign of online menus to match new universal search functionality

Nov 05, V1.06
Added new 'Champion' aiming aid setting, and restored original 'Pro' aiming aid.
Removed Halloween splash screen (balls and decals are still available to use)
Online menus re-designed slightly to give more information and better functionality.
Fixed issue with online search results not clearing out old entries when you select 'search again'.
Oct 28, V1.05
Archive matches that were archived from being the client in an online game are now controllable when you load them.
Translation updates
Fixed leaderboard arrows becoming stuck when clicking them with mouse.
Stabalised the camera when in leaderboard.
Fixed arrows on post match stats screen not being clickable.
Fix for the 'archive' button not working when you finished an online game.
Oct 25, V1.04
New control switching ability for mouse input.
Change to pro aiming aid, only shows cue ball trajectory (community request)
Added Halloween splash screen, balls and decals.
Fix for phantom, unjoinable lobbies.
Lobby screen now ignores mouse when you're using the controller.
Launcher now shows correct number of render devices.
Oct 24, V1.03
Ball in hand controlled with mouse.
Unlocks (cues, decals, players etc) awarded correctly (and retrospectively)
Windowed mode preference on launcher is now saved.
Achievements that players haven't received (but should have) are now awarded retrospectively.
Oct 22, V1.02
Fixed missing music and fmvs, fix for missing unlocks
Free play now uses player's tour aiming aid setting.
Fix for bug where both online players would enter 'spectator mode' at the start of a new frame in a multi frame match.
Improved compatibility with some notebooks.
Oct 21, V1.01
Release Patch 1 (Single data file patch). Reduces install size by 75%
Some translation fixes.
Fix aiming aid setting not changing in online matches.
Slow mo camera is now more frequent.
You no longer have to wait for opponent to unpause in an online match to continue your shots.
Fixes to missing achivements.
Camera no longer responds to mouse input when game doesn't have focus.
3rd and 4th tours can now be unlocked by people who had a save file from the BETA.
Higher res art assets.
'Reverse' and 'forward' control hints now show mouse icons instead of controller buttons.
Start screen now automatically advances. No need to wait for key press.
You can now back out of the 'How to Play' menu with Mouse/KB.
Missing main menu when returning from tour game now fixed.
Fix for certain NVidia cards showing black screen with AA enabled.
Added borderless window mode.
Reduced Bloom levels
Oct 18, V1.0
Release Build
Pool Nation, is the ultimate pool game - with eleven addictive game modes, including the adrenaline pumping Endurance, extensive career modes and seven exciting online modes including the new Speed Pool! Not forgetting the Box of Tricks coming soon to Steam, giving you the ability to imagine, build and share your most outlandish...
Если вы являетесь
правообладателем
данного материала и вы против размещения информации о данном материале, либо ссылок на него - ознакомьтесь с нашей
информацией для правообладателей
и присылайте нам письмо. Если Вы против размещения данного материала - администрация с радостью пойдет Вам на встречу!
Ссылки для скачивания игры
Скачать Pool Nation v1.74 (450.26 Мб.):
Релиз от ALI213
Ссылки временно недоступны, скоро появятся...

Если ты нашёл "мёртвую" ссылку - дави значок [X] рядом с ней и ссылка в ближайшее время будет перезалита.
Дополнительные файлы для игры
Если ты нашел новую версию игры Pool Nation v1.74, либо русификатор к ней, патч, левелпак или мод - сообщи об этом редактору новости, он добавит сюда доп. файл.
Отправка личных сообщений доступна только после регистрации.
Комментарии игроков (14 шт.)